PBI Welcomes a New Executive Director
We have exciting news to share with you! Internationally known global change scientist and inspiring conservation leader, Dr. Phoebe Barnard, accepted the position of PBI Executive Director in late 2016, beginning work with PBI in January, 2017.
Phoebe is American-born and -raised, but with a career spent mainly in Africa at the tough interface of conservation biology and climate change. She brings to PBI impressive credentials as a highly motivated climate change ecologist, conservation biologist, sustainability strategist, and environmental planner—as well as a warm, capable, and engaging personality. Phoebe has been appointed affiliate professor in conservation biology and environmental futures, University of Washington, Bothell, and associate researcher, University of Cape Town institutes for ornithology and climate and development.
We invite you to spend a few minutes to explore Phoebe's current and past work, and will be creating opportunities for those of you in Washington State to meet her in person in the coming months. http://www.phoebebarnard.com http://www.biologicalsciences.uct.ac.za/bio/staff/postdocsresearch/assoc/barnard https://theconversation.com/profiles/phoebe-barnard-164717 http://www.acdi.uct.ac.za/associates/dr-phoebe-barnard
Dr. Phoebe Barnard in the Gerlache Strait, by Dyan de Napoli
Transitioning to a new Executive Director in 2016 was an important element of PBI's three-year Strategic Plan (2013-16), so this transition is right on track. We are confident the organization will grow to the next level and thrive under Phoebe's leadership and with the benefit of her national and global networks.
New PBI leadership enables PBI's founder and former executive director Peter Morrison to once again delve into what he enjoys most: wildland exploration, writing, photography, and research. Peter founded Pacific Biodiversity Institute in 1993, formalizing it as an independent non-profit in 1998. Under Peter's 24-year leadership, PBI gained in depth and stature, engaging in important research and education on such issues as:
Conservation opportunities in the wildlands and protected areas of North and South America
Assessments of ecosystem health in diverse terrestrial, freshwater, and marine environments in the western USA
The role of wildfires in western USA ecosystems and how humans can learn to live with wildfire in a more sensible way
The transition to new leadership allows Peter to re-direct his time to research and writing. As he guides Phoebe into the executive director role, Peter will transition to a part-time senior research position with PBI, applying his deep insights into ecological process and conservation priorities in support of several important PBI initiatives. Peter also will remain on the PBI board of directors as our founding director.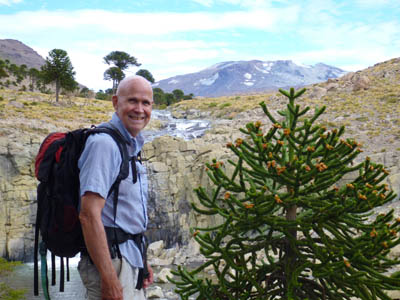 Peter Morrison at the Copahue volcano, Argentina, by Kirsten Harma
In 2017, PBI will commence a new three-year strategic planning process, while at the same time maintaining our current initiatives—the South American wildlands, climate change, the biodiversity impacts of wildfire, and Salish Sea ecosystem health (initially the Harbor Porpoise Project). Update of our strategic plan will help streamline and reorient our mission to address the most crucial issues facing biodiversity in these times of rapid environmental and societal change.
We look forward to an exciting future! Please, stay connected and get involved with us as we work to further this important work. There's space for you to be involved in PBI in any way you feel you can contribute. Feel free to contact us at .

Copyright © Pacific Biodiversity Institute
PO Box 298, 517 Lufkin Lane
Winthrop, WA 98862 509-996-2490