Anyone Can Join the Porpathon!
Would you like to relax by the seashore and watch marine wildlife... for science? Join Pacific Biodiversity Institute for a Salish Sea wildlife observation blitz--the Porpathon! On Saturday October 1, 2016, get out on the water, your deck, or your favorite spot to watch the waves and let us know about the marine wildlife you see. Or join a wildlife observation citizen scientist at a designated lookout to learn more!
No training or experience is required. Sign up by emailing porpoise@pacificbio.org and you will receive a free marine wildlife species ID guide, guide to suggested viewing locations and designated lookouts, and instructions on how to submit your sightings. Share your sightings all day on social media, too, with #porpathon2016. Great for the whole family, and great for Salish Sea conservation!
Contact us at porpoise@pacificbio.org for more information.
Click here to view the event poster.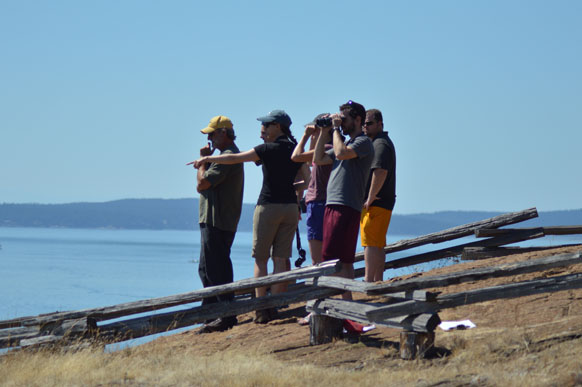 Waterfront Home-based Marine Wildlife Observers
The Salish Sea is one of the most beautiful places in North America for waterfront living, thanks in part to the incredible marine biodiversity that thrives here. Those fortunate enough to call the waterfront home can now expand their view by becoming a trained citizen scientist wildlife observer with Pacific Biodiversity Institute.
Home-based citizen scientists collect detailed and systematic observational data on harbor porpoises, harbor seals, seabirds, and more from the comfort of their own homes. Observations, conducted on the observer's own schedule, range in duration from 10 to 120 minutes.
Contact Citizen Science Coordinator Anna Hallingstad at anna@pacificbio.org for more information. Time commitments are flexible and training and participation is free.