Pacific Biodiversity Institute's World Famous Road Map
The Road Map:

Where would you like to go today?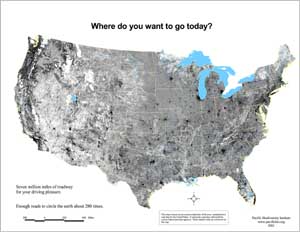 You can order this 36-inch by 48-inch print of our famous Road Map showing ALL 7 million miles of roadway that you can drive in the country without using four-wheel drive. No other map has all the roads ... so don't take a trip without this map! View a low resolution version now in Adobe Acrobat.
This map was produced as a part of our effort to assess what hasn't been paved yet... to find what is left of the wild landscape that once spread from sea to sea.
When you take a trip through this beautiful country you need a good road map.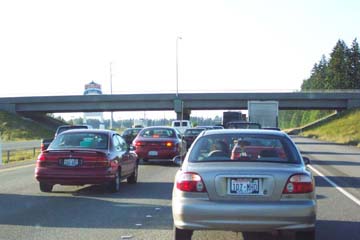 Order Now Using PayPal. $40.00 per map
We also accept mail orders. Just send us your mailing address plus a check for $40.00 (covers printing, postage and a sturdy mailing tube). Any extra donation that you want to make to help us with this project is greatly appreciated. Contact us for larger quantities.
Copyright © Pacific Biodiversity Institute
PO Box 298, 517 Lufkin Lane
Winthrop, WA 98862 509-996-2490